Scott Delgadillo Scholarship
Congratulations to the 2015 Scotty D Scholarship Winners Jake and Austin!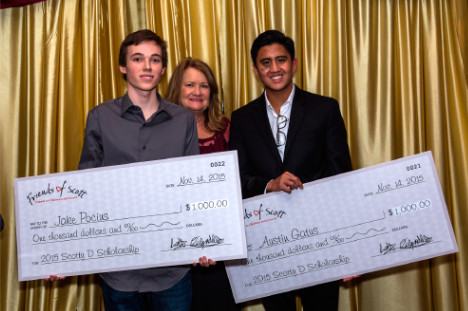 Jake was diagnosed with Osteosarcoma on the right Tibia in 2009 at the age of 12. He underwent nine months of chemotherapy, plus amputation of a leg. "Jake felt he could over come this" and he received a robotic leg. Pushing forward, he found snowboarding as a passion. He continued to do well in school despite missing a year in junior high school, all of his hard work paid off when he received an acceptance letter at San Francisco State. He is now a freshman there. Congratulations to Jake!
Austin was diagnosed at the age of 9 with Precursor B Cell acute Lymphoblastic Leukemia (ALL). He completed treatment as of July 2009. He frequently speaks at foundation events, including radio-thons, golf tournaments, and speaking to patients and their families. For the past three years Austin has been performing the National Anthem with his saxophone at the High School All-American Baseball Classic in San Diego. Proceeds from the game benefit Rady Children's Hospital. Austin has also been recognized as a Miracle Maker raising $5000 or more annually for the hospital. Austin is an inspiration to all and now is attending UCLA. Congratulations to Austin!
---
The Friends of Scott Foundation (Friends to Children With Cancer) offers a scholarship each year to cancer patients currently on treatment or to survivors. Education was important to Scott. It was his dream to attend the University of Notre Dame. In his memory FOS offers a scholarship program for individuals who have been diagnosed with childhood cancer. We realize the importance of continuing education and know that pursuing this goal is difficult when given a life-threatening diagnosis.
Our scholarship program is designed to provide funding to survivors who want to continue their education through technical school, vocational school, junior college, or a four-year college or university. For more information on how to apply for the FOS scholarship, please send an e-mail to Barbara Bailey.
2016 Friends of Scott Scholarship Program
The Friends of Scott Foundation Scott Delgadillo College Scholarship will be awarded to a cancer patient or cancer survivor based on financial need and personal hardship. The Scott Delgadillo College Scholarship Committee will select the recipient.
Eligibility Requirements
Applicants must be:
California Residents Only
Applicant must be a cancer survivor or currently receiving treatment.
Applicant must be enrolled in or accepted for enrollment in an accredited undergraduate or graduate school.
Applicant must submit a copy of the acceptance letter from the college or university of choice. (Pending acceptance of enrollment is allowed. Please update information when received.)
Two Letters of Recommendation.
A signed statement from applicant's attending physician, verifying applicant's medical history. (Medical information will be kept confidential and will only be reviewed for application consideration.)
The applicant must submit a 500 word essay describing, "How has my experience with cancer impacted my life?"
The applicant must complete the scholarship application including a signature. Incomplete applications will not be considered.
Scholarship recipients must submit a release form stating their photos and success stories can appear on the Friends of Scott website.
Selection Process and Awards
Applications are reviewed and evaluated by the Scott Delgadillo College Scholarship Committee. All selections made by the committee are final.
Program Limits
The Friends of Scott Foundation is not responsible for applications that are lost, misplaced, or delayed through the mail.
The application is confidential and becomes the property of the Friends of Scott Foundation.
Application Checklist
Complete, sign and date application
Proof of enrollment
Two letters of recommendation
Letter from attending physician
500 word essay
Photo to be used in Friends of Scott Publications if you are chosen as the 2016 recipient.
Application packet must be postmarked no later than August 31, 2016. Only include items requested. Do not staple your documents.
Please mail your application to:
Friends of Scott Foundation
Scott Delgadillo College Scholarship Fund
6977 Navajo Rd #168
San Diego, CA 92119
How can the award be used?
Scholarship funds may be used for education related expenses, including tuition, books, school supplies, room and board, or transportation.
When will the scholarship be awarded?
Scholarships will be awarded October 1st, 2016.
Print Application for Submission