Volunteer Your Time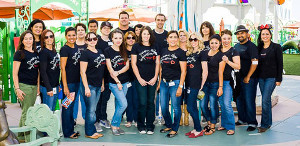 Volunteering is a meaningful contribution to our community and creates a positive impact on those we come in contact with.
Volunteering for the Friends of Scott Foundation is a wonderful opportunity to help children with cancer and their families. You can make a difference in the lives of these extraordinary children with your volunteer efforts.
You're Ready to Volunteer! Here's What to Do Next
We have a variety of volunteer opportunities available.
Decide when you would like to start volunteering.
Fill out one of the appropriate application forms or contact our office at 619-223-7268 or email us at info@friendsofscott.org.
Thank you for considering the Friends of Scott Foundation as a volunteer opportunity.
"Wherever there is a human being, there is an opportunity for kindness."
– Seneca
"I volunteered to give, but it became what I received that filled my heart!"
– Sharon