About Scott Delgadillo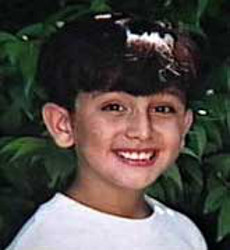 Fond memories race through our minds, then sudden sharp pain and cramps hit our chest. Yet we hide it from the outside world. A dark contrast to another memorable day...
It was an early morning - I remember it like yesterday. I was so excited about having my baby by appointment. September 17, 1986, Scott Matthew was brought into the world. He was beautiful from the beginning. A fair complexion, the color auburn covers his little head, his big brown eyes gaze into my eyes. And so it began, a bond between a mother and a child. What a wonderful little boy Scott turned out to be. Scott, from a young age, was very kind hearted, making you feel extra special.
On your birthday he was sure to give you a special gift. Eric, my older son, and Scott were inseparable. Scott showed his desire to achieve early and wanted to be with Eric at school. He worked hard in school to get good grades. Scott set goals for himself, as he quoted in an autobiography, "Everybody has a goal in life. My goal I've had since I was four is to go to the University of Notre Dame. It is not only my goal, it is my dream." In middle school Scott began to blossom from a little boy into a handsome young man. He was popular and well liked by many. He had a shining personality and a winning smile. Scott always had something going on in his social calendar.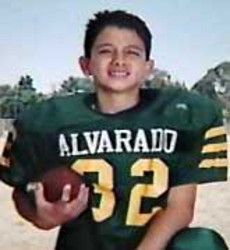 He participated in various sports, but Pop Warner football was without question his favorite. He would wear Notre Dame jerseys at practice, and his teammates started to call him N.D or D. As football season ended in 1999, he started to slow down and feel very tired. A sore ankle and an exam by his doctor seemed to confirm that he was going through growing pains. It was odd that our vibrant, energetic son was starting to have colds on and off. Then during our Christmas vacation everyone came down with the flu, including our older son Eric. A few days later a visit to the doctors brought the diagnosis of the flu that came with a prescription of antibiotics. Two weeks later Eric was fine but Scott's 'flu' seemed to linger.
Mother's intuition said there has to be something else, so back to the doctor's. I wanted answers. They tested for ear infections, strep throat and possibly mono all with negative results, so more antibiotics. The next day Scott continued to feel ill and now said he was having difficulty breathing. My concern grew and I took him back to the doctor. Scott began to feel worse as the day went on. I later found out from Scott that day he had an awkward feeling and knew something was wrong and something bad was going to happen. So that day turned into that night at Children's Hospital.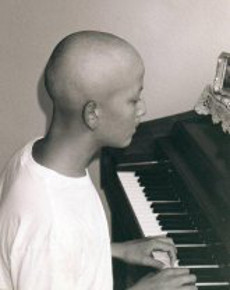 A battery of test were being run, however still no word on what was suspect until a nurse came in the room and handed me a phone. It was a doctor. I just remember hearing "Cancer"; she said that they found cancer cells in Scott's blood. I cannot even begin to describe the sinking feeling that raced throughout my body. My heart was pulled from out of me and crushed, as I literally fell to my knees. I just remember saying, "OH MY GOD!" The devastation that we all felt was unimaginable. The next two days my husband Henry and I went sleepless and weren't believing what was happening. I now had to tell my older son Eric that his only little brother that he loves so much had cancer.
We were later given Scott's diagnosis: ALL- Acute Lymphostic Leukemia. It's strange but throughout all this many wonderful things happened during this time. They say that a true friend walks in when others walk out during difficult times and just about all of Scott's friends walked in. In September of 2000 on Scott's 14th birthday weekend the Make A Wish Foundation made Scott's lifelong dream come true - attending a home football game at the University of Notre Dame. That weekend a turning point happened when he was asked by then Coach Bob Davie to speak at the pep rally in front of over 12,000 Notre Dame Students, fans and alumni, even Rudy (the real Rudy Rutiger).
When Scott spoke of his illness, hopes, and dreams he brought the audience to tears, even 300 pound football players as they sat next to him. The team was so inspired that the next day and in only the third time in their history they won the game with a last second field goal and then they awarded Scott the game ball. Scott always cheered on the Fighting Irish, but after that weekend when we returned to San Diego now they were cheering him on, applauding his courage and determination battling cancer. People knew the Scott story all across the county.
It has even been said Scott's speech has become part of the Notre Dame lore. He received letters, cards, gifts, and even phone calls from strangers asking what they could do to help. Yet Scott remained humble even with all the attention. Scott used to say, "I am not done here yet!" For twelve months we rode the most difficult emotional rollercoaster, but nothing could prepare us for January 29, 2001. Our world was turned upside down. Surrounded by family and friends, I held Scott in my arms just as I did at birth, and Scott Matthew took his final breath.
In Scott's speech at Notre Dame he said he would be back one day. He did return to the University of Notre Dame with football players, students, alums, friends, and family for a funeral mass presided over by Notre Dame President Rev. Edward A. Malloy.
Carmen Delgadillo
Mother of Scott Delgadillo